Apulia to discover
FOOD AND WINE
What are the typical products of Puglia? 
As well as its landscape, Puglia is also enchanting for its culinary traditions. It is characterised above all by the prominence given to the raw materials, both land and sea, and by the fact that all the ingredients are processed to enhance and not alter the basic flavours of the typical dishes.  The favourite food of the people of Puglia is pasta. In addition to industrialised production, the tradition of home-made pasta is still very much alive. Many variations of pasta, always full-bodied, are made from the wheat of the tavoloriere, to be combined with strong sauces with personality. In Apulia, you will find all the vegetables of the season and all the products of the Adriatic Sea. You can therefore enjoy vegetables in oil. Finally, Apulian sweets are often linked by a common ingredient, almonds, which come from centuries-old trees that are scattered throughout the region. Puglia's wine production is also particularly generous, with full-bodied and aromatic wines suitable for accompanying meat and roasts, and more delicate wines with a persistent flavour and intense aroma.
Some of our typical dishes:
Le orecchiette al sugo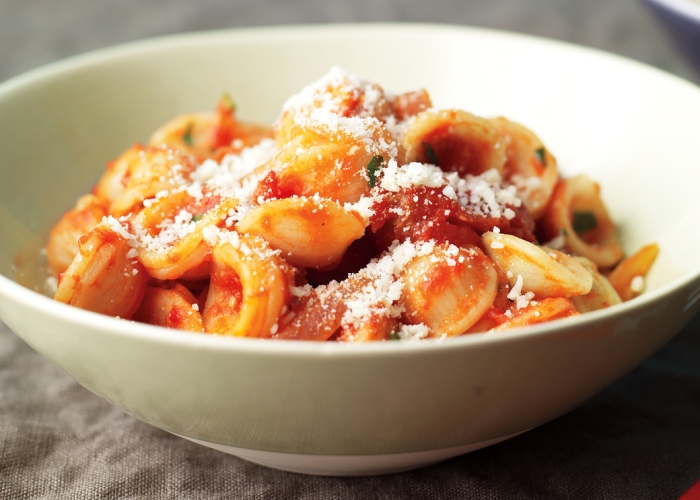 Le orecchiette al sugo, typical Apulian dish recognised in every home. Quick orecchiette pasta with tomato sauce is a very easy, light, cheap and tasty first course. All made with genuine home-made products, starting with the orecchiette, which are a speciality of Puglia, a typical ear-shaped pasta. While the sauce created directly from fresh tomatoes from our countryside give a unique touch of flavour to our favourite dish. Few but genuine ingredients! 

Le braciole 
Braciole al sugo are a typical Apulian dish. They are meat rolls slowly cooked in tomato sauce. Some people call them bracile, others call them involtini, but what is certain is that the taste never fails. They are the typical 'Sunday dish' and their unmistakable aroma is irresistible, coming from the kitchen like a call! 
Polpette al sugo
Le polpette al sugo: grandma's recipe. Meatballs are an integral part of the Apulian culinary tradition. They are easy to prepare and are made with great skill by grandmothers all over the region. The real dilemma with meatballs is actually bringing them to the table. Usually, at least here in Puglia, while preparing them we either eat them ourselves or some husband, grandson or son clears away everything and nothing ever gets into the sauce.  The smell of fresh basil sauce then invades the house and it's always Sunday. They can be made of meat or bread and are not just put in the sauce, they can also be fried and eaten like this.
I panzerotti 
I Panzerotti pugliesi are a real treat! A fragrant, golden dough with a rich, tasty and stringy filling! In Puglia, panzerotti can be found in all bakeries and pizzerias, but the speciality is making them yourself at home. They are usually filled with tomato and mozzarella, but can also be stuffed with other ingredients. Among the many ingredients that can be added are panzerotti with onion, those with ricotta forte, a typical Apulian cheese, and those filled with ricotta and spinach. They can also be filled with vegetables and other types of cheese, so you can let your imagination run wild!
Apulian dishes are endless, just come to Apulia and try them all.
Apulian cuisine is made up of poor but simple ingredients, which characterise our cuisine and make it stand out.