MAJESTIC MASSERIA TO RESTORE – MOLA DI BARI
ref. MB155VM
For Sale in MOLA DI BARI
Masserias and Countryhouses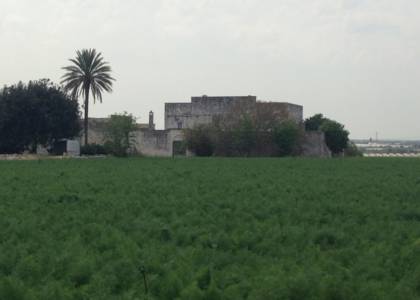 Description
Masseria and land
For sale in the countryside of Mola di Bari, an imposing and majestic masseria to be restored, with a beautiful sea view, a perfect combination of land and sea;
The farm dates back to 1700 and is composed of a defense gate that leads to the inside of the same, where it is shown in all its total beauty.
The square is paved in original chianche.
The farm has various environments such as stables, barns, barns and master chimneys, typical of the life of the farm itself.
Also there is the master part where the owner lived.
The ceilings present all the various architectural forms: a star, a barrel and a carriage sky.
The floors in some rooms are present the chianche, typical and original stone of the territory.
In addition, the structure also has a small church.
The land is about 13 hectares, cultivated with centuries-old olive grove, cherry and vegetable garden.
Potential and services
The structure is equipped with electric light, various cisterns and regional water connection;
The farm is about 4 km from the sea.
Ideal both for tourist activities – hotel of elegance and charm and for lovers and lovers of peace and nature.
---
Request Info
---
Features
Building Status
to renovate
---
Location Info
---
Search
Request info on this property